The mention of Greece often inspires visions of idyllic Mediterranean islands crowded with terraced whitewashed buildings above a vivid blue sea. Located on the southern end of the Balkan Peninsula, Greece enjoys a mostly mild climate, and features much beauty and history.

The center of Greece is located at 39.07 degrees North latitude and 21.82 degrees East longitude.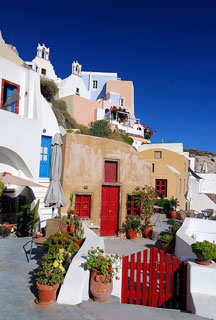 Santorini, also known as Thira, is a volcanic island often speculated to be the remains of the mythical lost city of Atlantis. Santorini produces delicious white wine made from thirty-six varieties of grapes that thrive in the rich soil. The tiny town of Oia sits 1,000 feet above the water on striated cliffs and is home to the family-run Perivolas hotel. Stay here and swim in the lipless pool, feast on fresh grilled mussels, and enjoy world-class sunset views from your own private terrace. The island of Santorini is 12 hours by ferry from Athens, and is best enjoyed from April through October.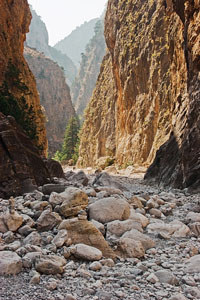 Crete is the largest of the Greek islands and the birthplace of Minoan culture. On Crete you will find the 17th century palace of Knossos filled with brilliantly restored frescos. If you are adventurous, the 12 mile downhill hike along the Samaria Gorge takes five to seven hours and leads to the coastal town of Chania on the Libyan Sea. Within driving distance, you will find the cliffside Elounda Mare hotel, where you can dine on fresh seafood on an outside terrace while drinking in views of the turquoise sea below. The city of Knossos is located 3 miles southeast of Heraklion, the capital city of Crete. The best months for hiking the Samaria Gorge are May and September.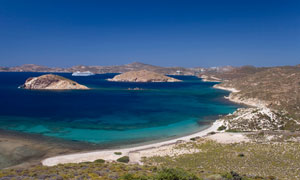 The Greek island of Patmos features a hilly interior and scenic beaches, but is best known for being the location where the disciple John was banished in A.D. 95 and wrote the book of Revelation. The small cave known as the Sacred Grotto is believed to be the place where John received his revelation from God. The nearby 11th century Monastery of St. John the Theologian is a complex of churches and courtyards containing an extensive library and archives. The island of Patmos is located 150 miles from the mainland, and can be reached by ferry from Athens in 7 to 8 hours.
Greece is home to beautiful and dramatic scenery, a mild Mediterranean climate, and centuries of history, making it an interesting and memorable destination for the scholar and layman alike!
---
Copyright © 2010-2023 Map-Of-Greece.org. All rights reserved.

Greece Address Locator Map